The Take-Over of the Curry Camping Company
​From 1915 until the death of David Alexander Curry on April 30, 1917, Stephen Mather, through his corporation, Desmond Park Service Company, was attempting to drive Curry out of business so he could acquire the assets.  By covertly starting and funding the actions of a corporation to compete with existing concessionaires while being able to, in effect, give himself preferential treatment, Mather was following the same strategy which had made him wealthy just a few years before.  But Mather wanted more.  
To this end, he had persuaded Daniel Joseph Desmond, the younger brother of Cornelius Charles Desmond to lead the corporation.  It is doubtfull Daniel Desmond had any idea what was coming.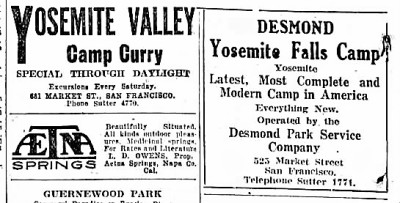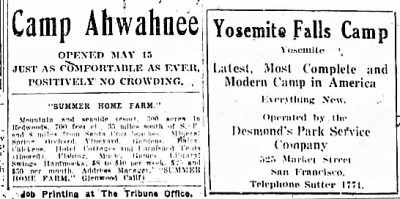 And now, Stephen Tyng Mather, Pretentious Wanna-be Elite, unleashes his opening volley of over-done Public Relations.

1916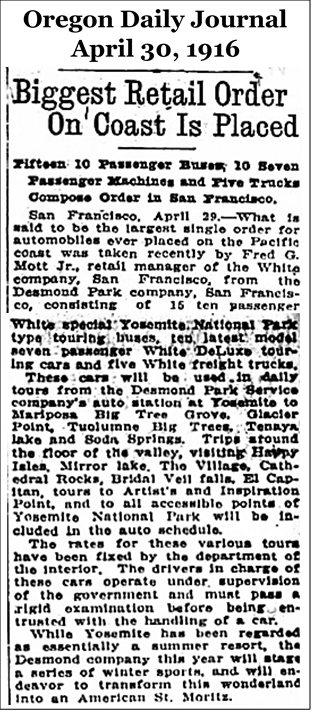 San Francisco Chronicle -

San Francisco Examiner -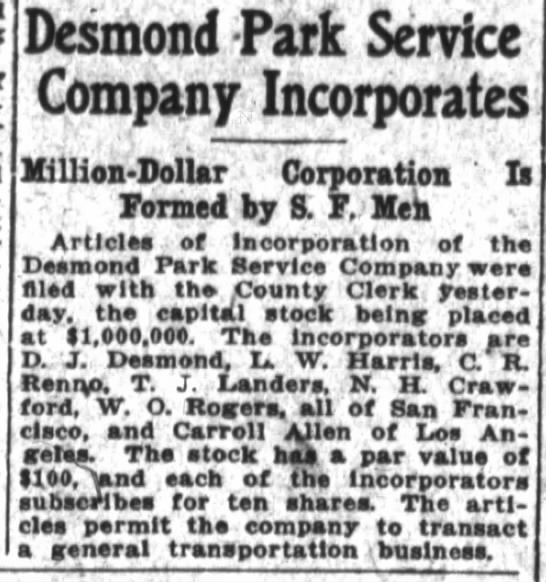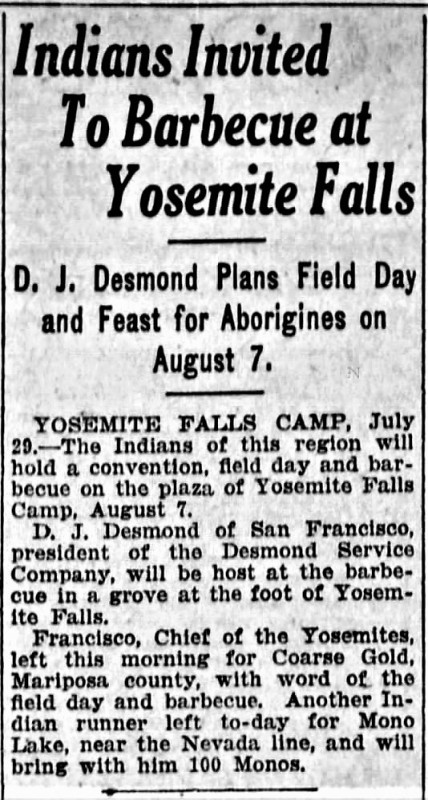 Indian Field Days was the idea of Arthur C. Pillsbury, intended to give the Miwok an opportunity to sell their wares to tourists.  It was tough for the Miwok to survive in their Valley.  The NPS burned out the last Miwok living in the Valley in 1963.  But now the NPS has been ordered to give them some land.  Finally. Melinda visited with the Miwok leader when last in the Valley. 
And it goes without saying that if Mather is buying anything he has to have the most and the biggest!
The estimated cost the hotel below in today's money would be subject to inflation of 2244.5%.  The cost would be $5,861,192.66.  Operations such as Camp Curry would be used to subsidize the accomodations required by Mather's elite friends.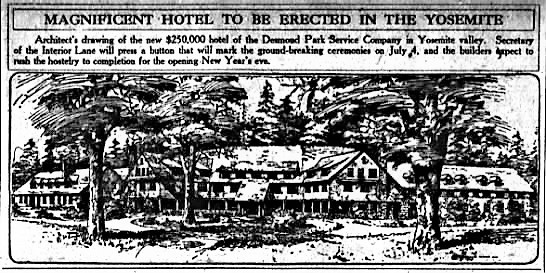 The speculations on how much the Desmonds were pumping into Daniel Joseph Desmond's new venture must have been many and varied.  Did anyone, except David Curry, wonder how much Mather was spending?  Of course, this was highly irregular, as self-dealing of course is.

Needless to say, the fantasy hotel above was not built.  It would not be until July of 1927 that Mather has an appropriate place where his elite friends could stay in Yosemite which met their standards.  Mather was, of course, upset about not having a golf course close to the Ahwahnee - but his plan to use the NPS for his own enrichment had gained support from a select number of 'elites'.